AB Risk Solutions is a local insurance broker that has been in the Northern Marianas for over 65 years. We serve as the general agent for Century Insurance Company (Guam) Ltd and a wholly owned subsidiary of Tan Holdings, a longtime Asia-Pacific economic contributor. With our offices strategically located around the Micronesian Islands, we are hailed as one of the leading providers of high standard risk solutions in the region.

Committed to providing financial literacy and security to its clientele, AB Risk Solutions has partnered with licensed Insurance Agents, Insurance Brokers and Surplus Lines Agents specializing in Property and Casualty Insurance who will work with you and help you navigate your way in choosing the best insurance option according to your needs.

Equipped with years of experience and trust from our clients, we, at AB Risk Solutions, are dedicated to building a sustainable future for you.
Before becoming AB Risk Solutions, the company was known by many names, with Aon being the most popular. The company was originally created in 1954 as New Zealand Insurance company and then later purchased by Atkins Kroll in 1974 to be AK Insurance. On 1996, the Aon Group purchased Bain Hogg International Holdings and in 1998 acquired the Baldwin Insurance book of business.

By the year 2000, Atkins Kroll sold their book of business to Aon, which formed Aon Insurance Micronesia. As Aon Insurance Micronesia, the company took the persona of being a worldwide corporation with the Aon brand spanning 120 countries and over 60,000 employees in more than 600 offices. The company ranked in the top 200 of the Fortune 500 year-after-year and was the number 1 insurance brokerage company in the world on most years.

The Aon Insurance Guam and Saipan branches helped contribute to that success. On October 1, 2019, Tan Holdings Corporation purchased Aon Insurance Micronesia from Aon Corporate. By January 1, 2020, the name was officially changed to Assurance Brokers Inc. dba: AB Risk Solutions. Under the ownership of Tan Holdings, AB looks forward to working together to distinguish the company as the preferred insurance brokerage in Micronesia for business, clients, employees and the island community. With Tan Holdings having a strong grip on the Guam, Saipan and Micronesian market, AB is poised to become an even stronger force in the community than ever before.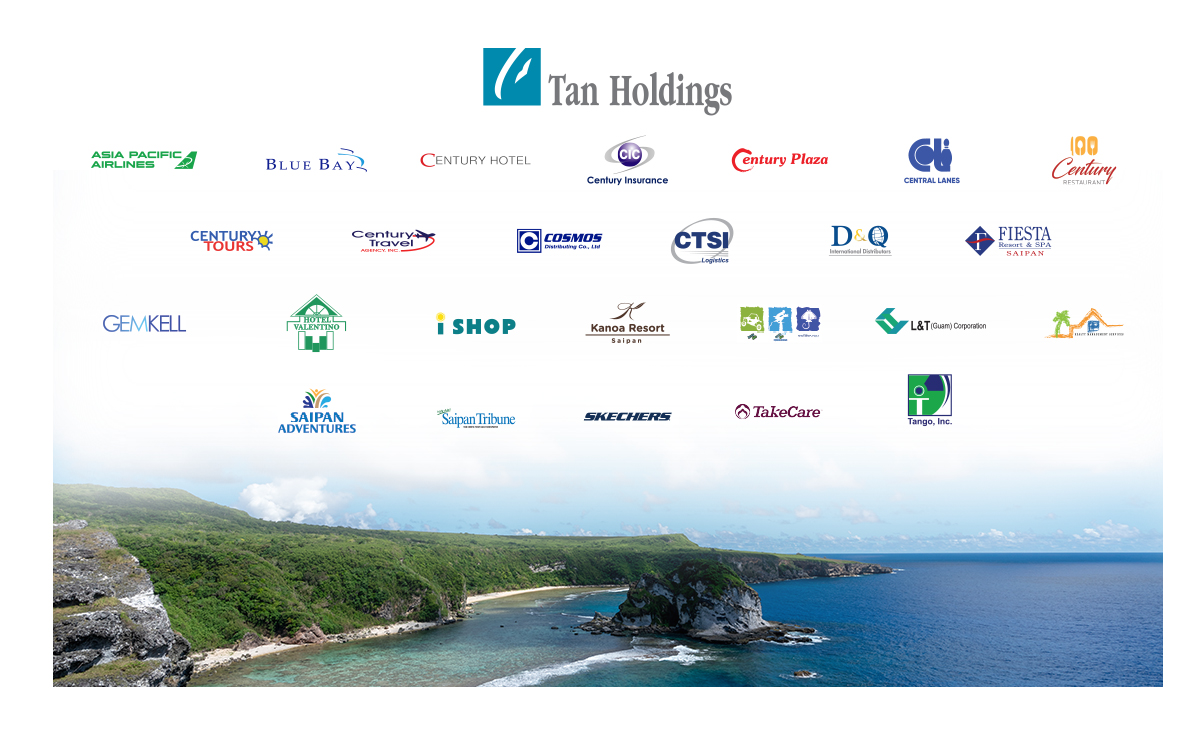 In 1972, Dr. Tan Siu Lin and his family moved to Guam to engage in the shipping, real estate and movie distribution businesses. The strong entrepreneurial spirit of the family business successfully developed into Tan Holdings Corporation, a diverse holding company headquartered in the Western Pacific, which prides itself on its strong vision and values.

The company headquarters moved to the island of Saipan in 1983, and is now one of the largest private taxpayer and employer in the U.S. Commonwealth of the Northern Mariana Islands. Led by a highly committed management team headed by President Jerry Tan in Saipan and Vice-President George Chiu in Guam, the company today is involved in a wide variety of industries that are vital to island economies in the Western Pacific: The organization is deeply committed to its over 4000 employees and social responsibility, and has maintained a philosophy of making continuous improvements, particularly in technology, human capital and through various initiatives driven by a team leadership approach.
Share about your business and the coverage you are looking for and let us
match you to the right provider and solution.